---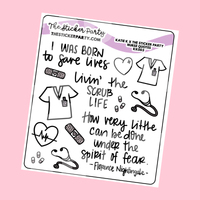 Katie K Plans Collab Nurse Quotes Planner Stickers

Featuring exclusive handwriting from Katie K Plans, who is a nurse herself, these nurse stickers are perfect for anyone in the healthcare profession! 

Colors may not be exactly as pictured
Printed on matte sticker paper
NOTE: Stickers are not repositionable. Please be gentle with them.

Check out my IG @thestickerparty for more pictures!

* All The Sticker Party stickers have been designed by me unless indicated otherwise. Please do not steal my pictures. Thank you!
In this case, Katie K Plans has provided her art to use.